Why Tint?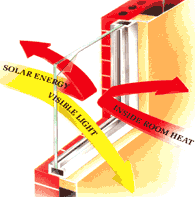 Windows provide you with a beautiful view of the outdoors, as well as the natural light cutting down on the need for artificial light. Whichever the case, you may want to see outside but you don't necessarily want to feel it. About one third of your home or building's energy is lost through the windows, resulting in uneven temperatures, hot spots and high energy costs. Applying window films can cut down on energy cost and also provide greater heat reduction.

Solar control films are applied to the interior of the glass where it both reflects and absorbs the heat. It cuts down on the need for cooling and helps to provide a comfortable, even temperature throughout your home or business. A pane of clear glass, According to the International Window Film Association (IWFA), reflects about six percent of solar radiation, absorbs five percent and transmits the remaining. Windows covered with solar control films provide heat reduction by increasing solar energy both reflected and absorbed by the glass, and radiating much more of the heat outward, creating a much more comfortable environment within.
---
Do's & Dont's
Do's
Choose a company that is established and belongs to IWFA (International Window Film Association) as well as BBB.
Ask for some of the company's references. Another good idea is to visit the company's retail location and make sure the company is in good standing; this normally shows a sign of establishment and longevity.
Ask to see a certificate of insurance and workers compensation insurance.
Choose a company in which the installers are employees and not "independent contractors". It is important to install what you sell so that the installer is familiar with the product and will be held accountable as representatives of the company.
Make sure the company offers a large selection of films to meet your specific needs, not just one manufacturer. This shows a sign of long standing relationships with all the different film manufacturers, as well as a sign that the company has researched the many available updated options.
Have the company's sales representative ask you questions and recommend product options that will meet your needs such as light transmission, reflective or non-reflective, heat reduction, and protection from fading due to UV rays.
Check before the installation that the product you ordered is the product that is going to be installed . Ask to see the box; all film manufacturers label their boxes with film type and product numbers.
Make sure you recieve a documented film manufacturer's warranty and/ or dual pane glass warranty upon completion.
Look at the job carefully after completion. If it looks good right away, then when the drying process is complete the film should look good for years to come.
Remember that at Alantic Shoreline we stake our reputation on our products, our prices, and our quality of work. We have made it a habit to ensure our customers that we stand by all that we do. Most of all, be aware that all window films, products, and companies are not created equal.
Dont's
Don't give a deposit. Established companies stay busy and are able to handle the work load. This means they should have plenty of film inventory. However, special orders sometimes require deposits such as shades, blinds, or decorative films.
Don't shop strictly on price alone. Consider the company, the product, installation procedures, references, manufacturer's warranties, and of course a price that is compliant with these specifications.
---
Estimates
The Consultation
Our Sales Manager will meet with you, at no cost or obligation, to assess your needs and recommend the most appropriate films.

The consultation starts with an understanding of the home from the exterior. The orientation of the home, color, aesthetic impact of existing window treatments and glazing, natural shading, proximity of neighbors and additional issues are all taken into account.

Further evaluation of the glazing system regarding the condition of the window frames, color schemes, usage of the rooms, usage of window treatments, exposure of the glass areas and an inspection of existing signs of fading are very important in recommending the possible films that would be most appropriate. Recommendations are discussed regarding which windows should be treated and windows are prioritized based on exposure and severity of fading.

We offer different brands of film as well as many different films within each brand. Consequently, it is important to fully understand which film will satisfy the needs of each client.

The Estimate
The written estimate is normally prepared at the consultation. The pricing is based on material and labor requirements for each project. The labor allowance is based on the required preparation of the glass, height off the floor, type of frame around the glass and the size and shape of the glass. The size of the overall project also determines the cost. There is no minimum charge for each installation. There is also a volume discount on larger projects. We will gladly itemize any individual areas under consideration, but the most economical way is to do the work as one installation.

It is imperative when comparing estimates from more than one company, to evaluate the attention to detail of the preparation of the glass surface, the edges adjacent to the frame and the quality of the Film!

The Installation
Atlantic Shoreline Co. installations are completed by highly trained and certified employees that take every precaution to guarantee complete client satisfaction. The windows are coated in place. The installation is neat, clean, and odor free, with minimal disruption to household or business activities. Our installers must meet our standards for quality rather than typical industry standards. Once a client decides to move ahead with an installation, they are given a date and time for the installation. Generally, the lead-time is one week however, during the peak season that time can be longer.

The installation for most homes can be completed in one day. In a home with true divided colonial panes of glass, the installation is considerably longer. The homeowner does not have to be present during the entire process. It is very common for our installers to be left unattended in a home. This is left to the discretion of the homeowner.

Occasionally, installations are scheduled for weekends. Typically, the smaller less complicated projects are done at his time. Also, the lead-time for weekend installations can be three to four weeks. Any particular conditions that may be involved in an installation will be covered during the consultation.

The homeowner is responsible for moving Shades, Blinds, Furniture and any delicate or extremely valuable items away from the window areas. Drop cloths are used to protect all flooring materials and to cover any furniture that cannot be moved, such as a grand piano .

Post Installation
Some moisture used during the installation of the film will remain between the film and glass. The energy from the sun will complete the drying process. Consequently, the film will dry quickly under sunny conditions and slower during winter months. This process can take from 30 to 120 days. During this time, small water pockets or a hazy cloudy appearance may be noticeable. It is best to leave the film alone and ignore the appearance. This will be temporary and completely dissipate when the film is fully cured. The room side of the film is cleaned at the installation and should not be washed for 30 days. Once the film is fully dried, normal glass cleaners, such as Windex, and soft paper toweling, such as Bounty, should be used. Although the scratch-resistant coating protecting your window film is very durable, it should never be cleaned with abrasive materials or razor blades. Never apply household tape to window film.
---
FAQs
How much will this reduce my utility bills?
Depending on the amount of glass and the orientation of your windows will determine the amount of energy savings. In most cases there is a 3 to 4 year payback period on your utility bills and it normally reduces 33%-50% of energy costs annually. History shows utility rates increase just about every other year, so your lifetime warranty is a sure money saver.


How long does this last?
Atlantic Shoreline's Window Films carry a manufacturer's lifetime warranty on Residential applications and between 10 & 12 year warranties on Commercial application's for years of durability and performance.


Does this stop fading?
All materials will fade from sunlight in time. Fading is inevitable and the same whether it is caused by exposure to intensive sunlight for a short time or a long exposure to weaker sunlight. Glass provides limited protection from fading. Severe fading can be significantly minimized with the use of window films. Though it can not be totally eliminated, the installation of film can drastically reduce the damage, enabling most fabrics and furnishings to look fresh and vibrant for years to come.


Is this like "Low E glass?
Low-E coatings are designed to be an improvement in the heat retention capability of double pane glass during the heating season. They do very little to control solar heat gain or UV light.


Will this harm my plants?
Most plants actually grow better behind window film because rapid changes in temperature that stress plant surfaces and flowers is reduced.


How do I wash the film?
Household glass cleaners, such as Windex, and soft paper towels, such as Bounty, should be used. Polish the film like you would a Formica counter top..


Can the films give me privacy?
Some films can provide daytime privacy, but at night people can see in.


Do I have to do all my windows?
All windows in any one room, as well as any room that has items of value, should be treated.


If we have Low-E windows do we still need window film?
"Low-E" window systems have gained popularity in recent years. While these systems do a great job in some situations, they are not the complete answer to most homeowners needs.


What Is a "Low-E" window?
Low-E stands for low emissivity. Emissivity is a measure of a surfaces ability to absorb or reflect far-infrared radiation. The lower the emissivity the higher the far-infrared reflection. Far Infrared radiation is that which is sensed by the body as heat. The sun's rays contain ultra-violet, visible, and near-infrared from the sun but reflect longer far-infrared wavelengths. Far-infrared radiation is re-radiated from objects (both inside and outside the home) that have been heated by the original radiation from the sun or heated in other ways.


Solar Control Film and the Low-E window system:
In the early days of low-a development the coatings used were applied to single pane glass. Filming over these old single pane systems would ruin the low-E properties of the window. Today, almost all low-a windows are dual pane system where the coating is on face 2 or face 3 (inside the air gap) of the window. Filming these window will not ruin the low-e properties. Be sure to check the film to glass recommendations for Low-E glass systems.

Standard solar control film and a Low-E window is perhaps the best complete protection available. The window will provide heat loss reduction, and the film will significantly improve the solar heat gain. In addition, the film will provide glare reduction and block 99% of the UV.


Low-E windows and UV protection:
Many homeowners believe they have adequate UV protection with low-a windows. While it is true that low-a window do perform better than standard windows, the amount of UV radiation transmitted is still many times that of windows retrofitted with solar control film.


Will Window Films Cause Glass To Break?
Glass breaks when stressed. There are five types of stress which may cause glass breakage:

1. Thermal Stress--from absorption of solar radiation.

2. Tensile Stress--from the weight of the glass itself.

3. Mechanical Flexing Stress--from wind.

4. Impact Stress--from flying objects, hail, baseballs.

5. Twisting Stress--from building or window frame sagging or settling.

The first type, thermal stress, is the only one which film may affect. The use of window films will increase the thermal stress on sunlit glass. However, there are also other factors which will increase thermal stress such as: partial shading of windows from overhangs, tightly fitting drapes or blinds, signs or decals on windows, heating and cooling vents directed at glass. In addition, different types of glass (annealed versus tempered, clear versus tinted) have different solar absorption rates and will withstand different degrees of thermal stress.

The window film manufacturers have recommended film-to-glass tables for use by factory-trained dealer installers. If a consumer is ever in doubt, he/she should request a copy of such guidelines.
---
---
Videos
---