3M™ Safety & Security Window Films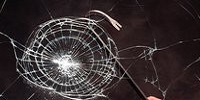 Protect yourself from violent weather, vandalism and ultraviolent rays
There's no denying the aesthetic value glass windows and doors give a home or commercial building. But is glass really the best defense for your family, co-workers and personal property when danger outside looms?
 Safety and security films can help to minimize the risk of property damage, personal injury or loss caused by a natural disaster, crime or accidents. These films are designed to deter the high winds of hurricanes and to hold the glass in place in the event that a break-in or accident may occur. Being unprepared for these circumstances could result in both costly and devastating consequences for people and property.
 When windows are broken or give way, glass shards and debris can lead to severe danger resulting in injury and damage, all while exposing your building or homes interior to wind, water and more. Safety and security films bond to the windows with a strong adhesive that helps keep the glass together under the worst conditions nature and man can dish out.
 Bright, sunny days pose threats, too, because UV rays cause interior fading. All clear or tinted films substantially reduce fading of your carpets, upholstrey, furnishings and merchandise by blocking out up to 99% of the sun's damaging UV rays.
 Atlantic Shoreline offers a large variety of security film to better serve you. All security films block out 99% UV rays and vary from 2mil up to 14mil strength.
---