Style and Energy Savings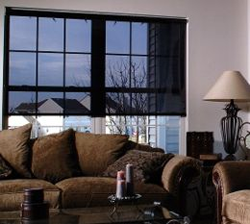 Windows are your home's link to the outside world, and an expression of your personal style. Window shades and blinds affect a room's lighting, it's color and even the temperature. The window treatments you choose can establish your home's mood, whether it is casual or formal.
Mylar Shades
Transparent Solar Control – Control Heat – Glare – Fading with See-Thru Solar Control Window Shades. A see through shade when you need it to keep out the sun's hot rays. In cooler weather, leave it up to let in warm winter sun and drawn at night to keep inside heat from escaping
An invisible layer of metal reflects up to 74% of the sun's heat
Reduces annoying glare by 90%
Stops damaging ultraviolet light
Ideal for retail stores, convenience stores, gas stations, car dealers, drive-up windows, airports, restaurants and more.
Only the unique Sun Shades offers all these benefits:
Reflects hot sun and cuts glare
Screens out harmful ultraviolet rays to reduce sun-fading of drapes, carpets, and upholstery
Reduces air conditioning costs
Retains inside heat in winter
Best R.O.I. – Pays for itself in months
Designer colors – dark gray, dark bronze and soft gray for flexibility in décor
Custom-made and shipped in 3-4 days
Comfortex Shades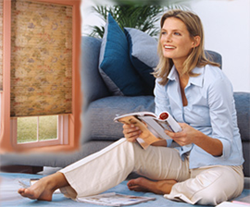 Have a Look
Insulating Blinds
Cellular Shades
Cordless Shades
Pleated Shades
Roman Shades
Sheer Horizontal Window Shadings
Cellular and Sheer Vertical Blinds
Roller Shades
Wood and Wood Alloy Blinds
Shutters
Drapery Sheers
Cellular Slider
Insulating Roman Panel Shades
Motorized Shades
Panel Track
---